Interview: Comeback Natalie Geisenberger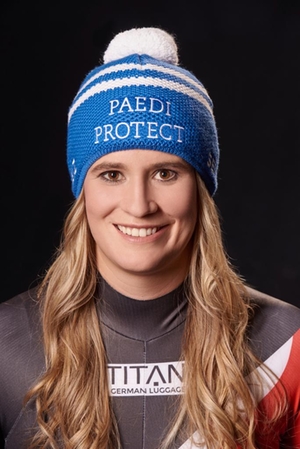 Altenberg (FIL) Natalie Geisenberger is considered the most famous and successful female luge athlete. The 32-year-old German won nine World Championship titles, seven overall World Cup victories from 2013 to 2019, six European Championship titles, four Olympic gold and one bronze medal. One and a half years ago, the World's best female luge athlete then announced that she was looking forward to her first baby and that she would take a luge break for the time being. On 2nd May 2020, the top athlete gave birth to her first child, son Leo, in Miesbach, Bavaria.
In the meantime Leo is five months old and the parents Natalie and Markus have the multiple tasks of training, working and looking after their child well under control. So Natalie Geisenberger could start on Monday, 12th October 2020 after a luge break of one and a half years, with the first training runs being in the ice track of Altenberg (GER).
The FIL asked how she was doing…
Natalie, you have completed your first two days of luge on ice in Altenberg. How does it feel to be back on the sled?

Natalie Geisenberger: "Good. I immediately felt good again. I was nervous before the first run, but I think that's normal after a longer break. Sometimes I still lack a bit of sensitivity, but otherwise it's going really well."

Do you miss your husband Markus and little Leo? Or is your family with you in Altenberg?
Natalie Geisenberger: "Leo, Markus, my father and our dog Bounty are there. First and foremost, I am a mother now and it was very important to me that the little one is close to me if it is possible somehow. Markus works from the home office. He sits in the hotel and works and my father takes care of Leo when I am at training or in the workshop. I am very grateful that this works so well!"

Have you missed luge in the last year and a half?
Natalie Geisenberger: "Honestly? I actually didn't miss it at all. I really enjoyed that one year, after such a long time a break did me good. I would even say that the break was perfect for me. But now I'm looking forward to it again, especially to racing, to pushing myself to the limit. I'm super motivated and I'm looking forward to the season. Oh, and of course I missed the lovely people who I was on the road for many years and who I can now be with again."

What else do you have planned? What training measures are coming and what are your goals for this winter?

Natalie Geisenberger: "I will be going on some more training courses and otherwise, when I am at home, I will continue to work on my athletics. And then I hope to be fit again for the first World Cup. To be honest, I don't have any concrete goals for this year. I'll just see how things go and be very relaxed. I will no longer be the one who wins often but I am still the one who is motivated to the maximum and who will give everything when she is at the start. And no matter how it goes: the most important thing now is my little son, he always comes first!"
Thank you very much for the interview!