Julia Taubitz, David Gleirscher and Eggert/Benecken win BMW Sprint Test of Oberhof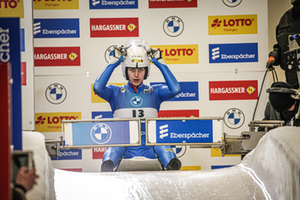 Oberhof (FIL) The LOTTO Thuringia EISARENA in Oberhof saw a premiere on Friday, 14 January 2022 from 2 pm. For the first time, a BMW Sprint Cup with reaction start was held as a test event.
Sprint World Champion Julia Taubitz, Olympic Champion David Gleirscher and the World Champions in the double Toni Eggert / Sascha Benecken were able to win this event premiere in the BMW Sprint Cup.
With the fourth fastest reaction time of 1.960 seconds and the winning final time of 27.596 seconds, Toni Eggert / Sascha Benecken (GER) were the winners of the sprint premiere. Thomas Steu / Lorenz Koller (AUT) finished second (+0.098) with a reaction time (RZ) of 2.024 seconds ahead of the young Latvian duo Martins Bots / Roberts Plume (RZ 1.848) (+0.192).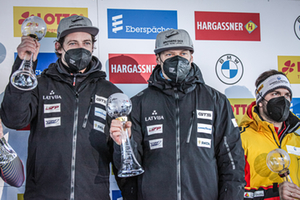 Overall winners in the BMW Sprint World Cup after the three sprints in Sochi, Innsbruck and Sigulda were Andris and Juris Sics from Latvia.
In the BMW Test Sprint Cup of the men, the Austrians convinced with a triple success in Oberhof. Olympic champion David Gleirscher won in a sprint time of 35.228 seconds (2.402 RZ) ahead of his younger brother Nico Gleirscher (+0.038 / RZ 2.386) and 2019 sprint world champion Jonas Müller (+0.096 / RZ 2.259). Local hero Johannes Ludwig finished fourth (+0.101 / RZ 2.459) ahead of the overall winner of the 2021/22 BMW Sprint World Cup Wolfgang Kindl (AUT/+0115).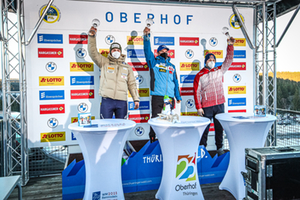 In the women's sprint World Champion Julia Taubitz from Germany was the fastest in the BMW Sprint Cup in Oberhof. She won with a runtime of 27.560 seconds ahead of Austria's Madeleine Egle and Olympic champion Natalie Geisenberger from Germany. Afterwards, the ladies were also presented with the small crystal globe for the overall ranking of the BMW Sprint World Cup. Julia Taubitz was honoured as the overall winner of the three BMW Sprint World Cups in Sochi, Innsbruck and Sigulda. Madeleine Egle took second and Natalie Geisenberger third overall in the Sprint World Cup.
In the test of this new sprint format, the athletes started by a reaction start through a bouncing start gate during a random time window of four seconds.
The reaction time of the athletes was measured from the opening of the start gate to the first light beam. This reaction time together with the sprint time of the run resulted in the final time. The sled with the shortest final time won the Sprint Cup.
For the first time, all registered World Cup participants were allowed to start in this sprint test. Normally, only the 15 fastest sleds of the EBERSPÄCHER World Cup are allowed to compete in the BMW Sprint World Cup.
The results from the sprint test on 14 January 2022 in Oberhof can be found here: https://www.fil-luge.org/en/multimedia/bmw-sprint-world-cup-21
Overall ranking of the BMW Sprint World Cup: https://www.fil-luge.org/en/overall-scores?event_season_id=29