Julia Taubitz, Roman Repilov and Kashkin/Korshunov crowned U23 World Champions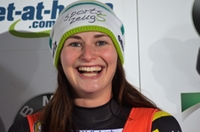 Winterberg (RWH) Germany's Julia Taubitz and the Russians Roman Repilov and Vsevolod Kashkin/Konstantin Korshunov have been crowned the new U23 World Champions of the International Luge Federation (FIL). The titles were awarded using a race-in-race format at the 48th FIL World Championships. In the men's race, Repiov won out ahead of the Latvian Kristers Aparjods and Jonny Gustafson from the USA, who finished second and third respectively.
Julia Taubitz, who previously won gold in the 2016 U23 competition, was followed home in second by Austria's Hannah Prock, daughter of two-time World Champion Markus Prock. Third place went to Swiss slider Natalie Maag. Silver in the doubles went to Ivan Nagler/Fabian Malleier (ITA), the Junior World Champion in 2018. Bronze went to the Romanians Vasile Gitlan/Flavius Craciun.