The "Tonnerboden-Track" in the luge centre Wipptal in Jaufental (ITA) remains the scene of the championship fights for the juniors. After the European Championships in 2021, the World Championships are on the program in February 2022.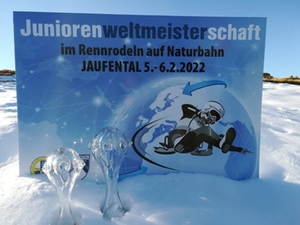 First snow on the mountains in Jaufental
Around four months before the big event, the World Cup countdown is ticking on site. The sports director for natural track in the International Luge Federation FIL, Andreas Castiglioni, handed over the countdown to the local OC boss Walter Volgger and the board member of ASV Jaufental, Stefan Bodner. "In the shop window of the grocery store in the center of the village, the board with the digital countdown will be put up," says Volgger happily. In addition, a video with the highlights of the European Junior Championships is shown on a monitor. "Here in the valley we are looking forward to the Junior World Championships," emphasizes Bodner. "For us as the FIL, it is important that the local population supports the event. It was the first time that we set up such a World Championship countdown - maybe it will become an annual tradition," says Castiglioni, who crossed the Jaufenpass (2094m) in icy temperatures and bright sunshine with his Vespa "Gran Turismo" built in 1968.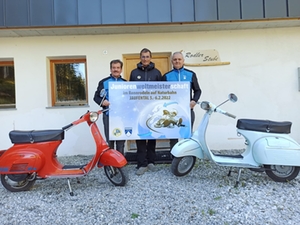 (from left): Walter Volgger, Andreas Castiglioni and Stefan Bodner
The construction of the "Tonnerboden-Track" in the Jaufental in the municipality of Ratschings began in 2017. It has an average gradient of 10.2% and is 658 meters long. The 2022 Junior World Championships in Luge on Natural Track will take place from February 5th to 6th.