OBDACH-WINTERLEITEN. From December 30th to 31st, the kick-off event of the Junior Luge World Cup on Natural Track 2017/2018 took place in Obdach-Winterleiten (AUT).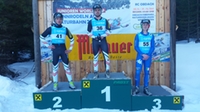 At the men's event, Florian Markt (AUT) emerged victorious: The Austrian finished with a time of 02:26.76 minutes and was only three hundredths faster than the reigning Junior Luge World Cup-Champion Fabian Achenrainer (AUT), who nearly managed to catch up with his compatriot after a good second run. Laurin Jakob Kompatscher from Italy ranked third with a gap of more than one and a half seconds behind Markt.
The women's event once more was dominated by Daniela Mittermair (ITA), who had won the previous season's overall standings of the Junior Luge World Cup: The Italian was the fastest athlete in both runs in Obdach-Winterleiten and therefore managed to keep runner-up Lisa Walch (GER) with a lead of 1,31 seconds at bay. Nadine Staffler (ITA) came in third, she was more than two and a half seconds slower than her compatriot Mittermair.
With the victory of Fabian Achenrainer/Miguel Brugger (AUT), the doubles' event has also been a clear-cut affair for the previous season's winners of the Junior Luge World Cup: The Austrians delivered the fastest run times in both runs and won the race with a lead of 2,94 seconds ahead of Josef Limmer/Simon Dietz (GER), who ranked second. The Russians Kirill Kravchuk/Aleksandr Zyrianov came in third with a gap of 4,65 seconds behind the Austrians.
The Junior Series of the Natural Track World Cup will continue in just a few days at the Seiser Alm/Alpe di Siusi (ITA), where the races will be held from January 3rd to 4th 2018.
Results:
http://www.fil-luge.org/en/multimedia/fil-junioren-luge-world-cup-on-natural-track