Lady luck favours Sandra Robatscher as she clinches first World Cup victory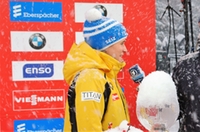 Altenberg (RWH) Lady luck shone on Italy's Sandra Robatscher, who has claimed her first victory in the Viessmann Luge World Cup. The ladies competition on the luge and bobsleigh track in Altenberg had to be called off before the second heat due to heavy snowfall. The result was decided on the basis of the first run, which was headed by Sandra Robatscher. She is the niece of the Italian head coach Armin Zöggeler and her previous best result was third place in the European Championships of the International Luge Federation (FIL) in 2018.
Second place went to Natalie Geisenberger (GER) the Olympic Champion of 2014 and 2018. Russia's Victoriia Demchenko came home in third place.
Ahead of the last two events of the season in Oberhof next weekend and in Sochi, Russia (23-24 February 2019), Geisenberger leads the overall standings with 782 points ahead of her teammate Julia Taubitz (651), who ended up 24th, and the USA's Summer Britcher (506), who finished in 20th place in Altenberg.
Quotes
Natalie Geisenberger (GER / 2014 and 2018 Olympic Champion, four-time World Champion)
"I'm a bit torn. I was unlucky in similar conditions in Königssee, but here the track was swept before my run. And I finished second."
Sandra Robatscher (ITA / European Championship bronze medallist 2018)
"Of course I'm delighted to take the win here. I certainly got lucky in the conditions and also benefited from the track being swept before my run."