The last medals were awarded on Saturday at the 28th FIL Luge European Championships on Natural Track in central Moscow. The brothers Lambacher/Lambacher (ITA) prevailed in the doubles, and in the team-event the gold medal also went to Italy.
The brothers Patrick and Matthias Lambacher have already been the fastest in the training run on the shortened "sparrows-hill"-track. Just one hour later Lambacher/Lambacher also fixed the best time in the race, just 0.06 seconds ahead of Russians Pavel Porshnev/Ivan Lazarev and 0.13 seconds ahead of defending champions Patrick Pigneter/Florian Clara (ITA). For Lambacher/Lambacher it is the first gold medal in championships, in 2019 they won the bronze medal in doubles at the World Championships in Latzfons (ITA).
European Champions Patrick Lambacher/Matthias Lambacher
Patrick Lambacher: "Our strong point is the start. In the past season, we were never worse than second in every World Cup race at the start. I am very happy about the gold medal at European Championships".
Matthias Lambacher: "Everything runs smoothly in sync, the motion sequences are automated. Every doubles-team who was at the start wanted to win today, I'm sure of that. "
Ivan Lazarev: "The training did not go well at all, then we quickly changed the steels on the luge. The material was great in the race. Making no mistake was the key to success here. "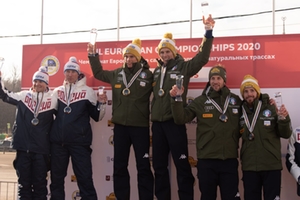 (from left) Lazarev/Porshnev, Lambacher/Lambacher and Pigneter/Clara
In the Team-competition Italy (Evelin Lanthaler/Patrick Pigneter/Alex Gruber) won the gold medal, defending champion Austria (Tina Unterberger/Michael Scheikl/Fabian Achenrainer) follows on second place, host Russia (Ekaterina Lavrenteva/Aleksandr Egorov/Aleksey Martyanov) won the bronze medal and about 500 cheering fans celebrating the fourth medal for Russia in the fourth competition.
Podium Team competition
Despite the mild temperatures the conditions on the track were fair on both days of the competition. The safety of the athletes was also 100% guaranteed.
In the medal table Italy is on top with 5 medals (3/0/2), ahead of Russia with 4 (0/3/1) and Austria with 3 (1/1/1). 60 athletes from 14 nations were registered at the FIL Luge European Championships in the Russian capital Moscow.
Board of honor of the 28th FIL Luge European Championships on Natural Track, Moscow 2020:

Women's single
Gold: Evelin Lanthaler (ITA)
Silver: Ekaterina Lavrenteva (RUS)
Bronze: Tina Unterberger (AUT)
Men's single
Gold: Michael Scheikl (AUT)
Silver: Aleksandr Egovor (RUS)
Bronze: Alex Gruber (ITA)
Doubles
Gold: Patrick Lambacher/Matthias Lambacher (ITA)
Silver: Pavel Porshnev/Ivan Lazarev (RUS)
Bronze: Patrick Pigneter/Florian Clara (ITA)
Team competition
Gold: Italy (Lanthaler/Pigneter/Gruber)
Silver: Austria (Unterberger/Scheikl/Achenrainer)
Bronze: Russia (Lavrenteva/Egorov/Martyanov)