The first pursuit race since two years in the FIL Luge World Cup on Natural Track in the Passeier Valley (ITA) was a blast. On Sunday at the 870 meters long Bergkristall-track the best 16 athletes of the world were on the start for the women's singles, and the best 26 athletes for the men's singles.
Evelin Lanthaler (ITA) from the Passeier Valley was the favorite on her home track and moved apparently effortlessly against Lisa Walch (GER) and Michaela Niemetz (GER) into the final of the top four. There the opponents were Michelle Diepold (AUT), Tina Unterberger (AUT) and Greta Pinggera (ITA), who qualified for the final with the fastest time. In the decision run, however, Lanthaler stroke back with a runtime of 54.86 seconds, the 28-year-old was the only athlete this weekend under the magic mark of 55 seconds. Second place, as on Saturday, Tina Unterberger (+0.63 seconds), third place went to Greta Pinggera (ITA / + 0.97) ahead of Michelle Diepold (AUT / + 1.16).
"I really liked this kind of race, as a runner I was challenged from the first round. In the final I had to push myself to the limit, 54.86 is a really great time, "Lanthaler analyzed after the third victory of the season in the third race.

In the men's final competed World Champion Alex Gruber (ITA), the winner of the opening race in Winterleiten Michael Scheikl (AUT), Patrick Pigneter (ITA) and the overall winner of the last three years, Thomas Kammerlander (AUT). Kammerlander showed up one of his famous dream runs with 54.09 seconds and took his first win of the season, ahead of his team-mate Michael Scheikl (+0.14) and Patrick Pigneter (+0.32), who was also on the podium in the third race of this season. Alex Gruber (+0.98) failed the final run and finished in fourth place after his victory on Saturday.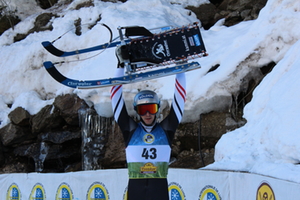 Winner Thomas Kammerlander
"It was an absolutely exciting race. The challenge is to re-motivate yourself in every round. You can see that in the end the last run counts, there you have to deliver. And the overall World Cup is also very close this year, "said Kammerlander.
Evelin Lanthaler (300 points) leads the overall standings ahead of Tina Unterberger (240) and Greta Pinggera (215), Kammerlander has taken the lead with 255 points, ahead of Scheikl (245), Pigneter (225) and Gruber (220).
The next stop in the FIL Luge World Cup on Natural Track is on January 18th-19th on the 2017 World Championship-track in Vatra Dornei (ROU).