Lausanne 2020 is looking for 3,000 volunteers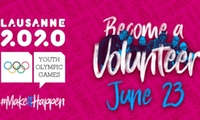 Lausanne (RWH) The Organising Committee of the Winter Youth Olympic Games in Lausanne (9-22 January 2020) announced the launch of its volunteer programme on the occasion of Olympic Day on 23 June, exactly 200 days before the Opening Ceremony. The registration platform will be accessible via the website www.lausanne2020.sport/en/Volunteers , where also more information can be found now.
Next January, 3,000 people of all ages will help to deliver the Winter Youth Olympic Games Lausanne 2020, which will welcome 1,880 athletes from more than 70 nations as well as their families, coaches, entourage members and sports fans.