Lausanne 2020 mascot Yodli unveiled on "One Year to go"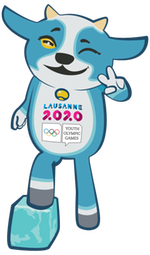 Lausanne (RWH) In one year, on January 9, 2020, the third edition of Winter Youth Olympic Games will kick off in Lausanne, Switzerland. To celebrate the milestone, the Lausanne 2020 Youth Olympic Organising Committee (YOGOC) unveiled its mascot. "Yodli" is a hybrid, composed of animals that live in the Swiss mountains: a cow, a goat and a Saint Bernard dog and was designed by students from local art school Eracom, as was announced in an IOC press release.
In addition to the unveiling of the mascot, the Lausanne 2020 YOGOC will hold a short ceremony in the centre of Lausanne.
In just one year, Yodli will be joined in Switzerland by 1800 athletes aged 15 to 18 who will compete in eight sports across the whole of Switzerland and neighbouring France.