Margit Dengler-Paar new FIL Communications Manager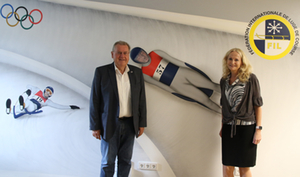 Berchtesgaden (FIL) The International Luge Federation, FIL, has announced a change in the areas of press relations and social media, following a decision by the Presidium to place them in new and experienced hands. As such, it has been agreed that Margit Dengler-Paar will serve as the new Communications Manager of the FIL, initially until summer 2022, i.e. until after the Olympic Winter Games in Beijing. Margit will be responsible for the areas of press relations and social media.
Margit Dengler-Paar is a former luge athlete, studied business administration with a focus on tourism, was Head of Marketing at the Berchtesgadener Land Tourist Board, and then Press Spokeswoman of the Bobsleigh and Luge Federation for Germany (BSD). With her communications agency PROJEKT-KOM she has already been in charge of the FIL's five social media channels (Twitter, Instagram, Facebook, YouTube and TikTok) in the last four years.
FIL President Josef Fendt is pleased: "After the job advertisement, the FIL Presidium unanimously decided in favor of Margit Dengler-Paar as the new Communications Manager. We are happy that a woman with this outstanding qualification in the field of communication and media relations has applied. Margit has already shown us over the past four years that she has many good ideas and a large network in the area of sports and media. We are looking forward to the extended cooperation".