Merle Fräbel and Chris Eissler win the 41st FIL Summer Cup in Zwickau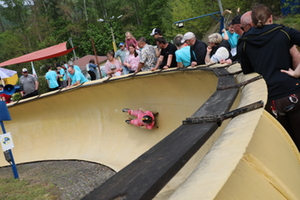 Zwickau (FIL/05 May 2023) The meeting of Olympic and World Championship participants as well as many young athletes has been the attraction of the FIL Summer Cup in Zwickau (GER) for years. About 130 athletes from eight nations competed at the 41st FIL Summer Cup in Zwickau (GER).
On Saturday, May 13, the individual events were held in the age groups Youth C, Youth B, Youth A, Juniors, General Class and Seniors.
While local heroes Julia Taubitz and Florian Müller won the general class last year, they were relegated to second and third place by Merle Fräbel and Chris Eissler in 2023. U23 World champion Merle Fräbel from Thuringia and winner of the FIL Fair Play Award as well as "luge pensioner" and student Chris Eissler were the fastest on the artificially-iced track in the West Saxon Stadium. The former luge athlete relegated the two active athletes Sebastian Bley and Florian Müller to the other podium places.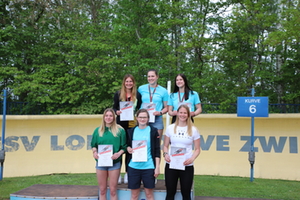 Three-time overall World Cup winner Julia Taubitz accepted second place with a smile: "The vacation was nice, but as always much too short. Now it's time to really prepare for the new season with the goal of finally winning the title at the home World Cup in Altenberg in 2024 and, if possible, defending the overall World Cup title."
On Sunday, May 14, the traditional Nations Cup and Team Cup took place. Winner of the Nations Cup and at the same time winner of the Cup of the Mayor of the City of Zwickau was the team Germany with the support of the Swiss Natalie Maag ahead of Austria and Slovakia. The mayor of Zwickau, Constanze Arndt, personally presented the award. In 2022, the team from the Czech Republic and Slovenia had won here. The team competition was won by a relay team from Saxony with athletes from Zwickau and Chemnitz, ahead of a quartet from Saxony and the relay team from Thuringia.
The organizers of the ESV Lokomotive Zwickau e. V. were pleased with the large number of registrations and numerous guests of honor. Participants came from Austria, Poland, Ukraine, Slovakia, Switzerland, Bulgaria, the Czech Republic and Germany. Andrea Müller from the organizing team of ESV Lok Zwickau said: "We are very happy that, despite the terrible war of aggression by Russia, a small team of our sports friends from the Ukraine in the youth B and A was at the start in Zwickau again this year".
"I have already experienced many competitions. But the organization, the procedure, the cordiality and to have such a top field of nationally and internationally successful athletes at the start in summer, that is already top class of a special kind," said Maria Luise Rainer, FIL Event Director for the luge competitions at the Olympic Winter Games 2026 in Milan-Cortina.
All results of the 41st FIL Summer Cup can be found under Results - RBSV https://rbsv.de/ergebnisse/
Photos: Sven Schmutzler