Since March 16th everything has been different in Germany, Bavaria and therefore also in the German Natural Track luge team. The corona pandemic has also affected the everyday life of top athletes. While Michaela Niemetz mainly pursues her work as a hearing aid acoustician master in summer and also lays the basics for the upcoming season of Natural Track luge with endurance and strength training, until June 14th she was involved with the THW (technical aid organization) to organise the distribution of protective masks and clothing. Christine Stanggassinger spoke to her to find out more about her social commitment.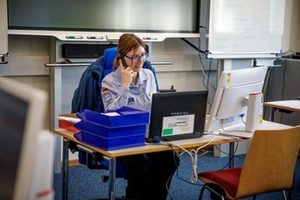 Michaela Niemetz is a volunteer for the THW
In corona times you had your voluntary job at THW until mid-June in addition to Natural Track luge and your job. What exactly did your do?
Niemetz: I am at the technical relief organization in the OV Geretsried. My basic tasks there are support in the logistics, management and supervision of the youth group as local youth officer. During the corona pandemic, however, I worked in the Corona Pandemic Procurement Support Group for the State Office for Health Protection and Food Safety (LGL). Our team consisted of THW helpers and police officers who come from all over Bavaria. We had our base at the Geretsried State Fire Brigade School, where we took care of the processing of offers and then forwarded them to the LGL for procurement.
How long have you been at THW?
I have been at THW since November 2011.
Did the work directly related to the virus change your view of the whole situation?
Yes, the work changed my view. Especially when you are allowed to look behind the scenes, it becomes clear what is behind everything. What must be planned and organized to protect the health of the population in such situations. Especially since I have to deal with people who belong to the risk group in my family and professional environment.
How can you train besides THW and your regular job?
I believe that if you do something with body and soul, it is possible to make time for yourself. It's often stressful, and I don't want to deny that. However, I just kept fixed days and times exactly for that. At the beginning of the pandemic, however, it was a really big challenge because we were not allowed outside and the gym was closed. During this time I had to try to do as much as possible at home or - as soon as we were allowed out at least - to go mountain biking or running.
What other THW missions have you been involved in?
I was already involved in the G7 summit in Elmau, in several flood operations, the New Year's Eve 2018 in Geretsried and also in the snow chaos 2019.
What is special about the voluntary work for you?
What is special for me is knowing that we can help other people in our teams if help is needed. We regularly practice together for this. Everyone has their specialist areas, everyone can rely on the others. Even the technical equipment that you would never come into contact with is all very fun and welds together.
How do you explain that above all people volunteer who are also involved at work, in sports or in their free time?
I think these people have a lot of ambition and want to give at least 100% and make a difference no matter what they do.
How important is your voluntary commitment to you?
Volunteering is very important to me because my comrades are like a second family to me and I also spend a lot of time with them. In addition, it is a common hobby of mine and my partner, where we can both let off steam. The planning for the new natural track toboggan season is underway. Training is difficult.
What are your goals for the coming season?
I hope that we can run the season as planned and that there won't be another coronavirus-wave. For me personally, I hope for a constant, accident-free season in the top eight.