Natalie Geisenberger and Felix Loch honored in Germany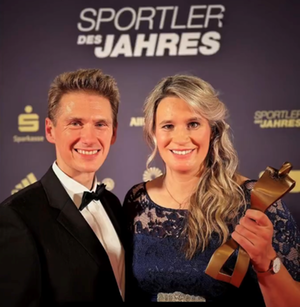 Baden-Baden (FIL/20 Dec 2022) Traditionally, Germany's outstanding athletes are honored every year on the fourth of Advent at the Kurhaus Baden-Baden. In 2022, the two track and field athletes Gina Lückenkemper and Niklas Kaul as well as the soccer players of Eintracht Frankfurt were at the top. Six-time Olympic luge champion Natalie Geisenberger came in third.
The voting members of the Association of German Sports Journalists (VDS) from the sports editorial offices honored Gina Lückenkemper's European Championship gold medal in the 100 meters with the vote for "Sportswoman of the Year". The other podium places went to three-time "Sportswoman of the Year" Malaika Mihambo (long jump) and six-time Olympic champion Natalie Geisenberger (luge).
This year's "Sparkassenpreis für Vorbilder im Sport" (Savings Bank Award for Role Models in Sports) of the Sparkassen-Finanzgruppe went to Felix Loch. The prize for the three-time Olympic champion and 13-time World Champion from, who is attending the World Cup in Park City (USA), was accepted on behalf of the Ukrainian skeleton athlete Vladyslav Heraskevych.
Yulia Raskina, the coach of the sensational world champion in rhythmic gymnastics, Darja Varfolomeev, as well as national bobsleigh coach René Spies, whose protégés won three of four possible gold medals and another four medals at the Beijing Olympics in February, were honored by the German Olympic Sports Confederation (DOSB) as "Trainer" and "Trainer of the Year," respectively.
photo: Instagram