Natalie Geisenberger crowned European Champion for third time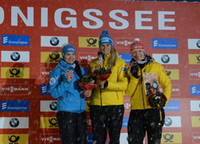 Königssee (RWH) Olympic Champion Natalie Geisenberger has won her third European Championship title. Following her wins in 2008 and 2013, the three-time World Champion took victory in the 5th Viessmann World Cup of the 2016/2017 winter season on the artificial ice track in Königssee, simultaneously clinching gold in the 48th European Championships of the International Luge Federation (FIL). It was Geisenberger's second win of the season and the 35th individual victory of her career.
The race was abandoned due to heavy snow during the second run, with only the first run counting towards the result as only eight competitors had taken to the track. "There were snow drifts on the lower section of the track, and the safety of the athletes was endangered as a result of the restricted visibility during the snowfall", is how Italy's Maria Luise Rainer, FIL Sports Director, explained the decision.
Silver went to the Russian Tatyana Ivanova, who had previously won the European title in 2010 and 2012. Third place in the Viessmann World Cup, and bronze in the European Championships, went to Tatjana Hüfner (GER), who holds the joint record of 37 individual Viessmann World Cup wins with Sylke Otto (GER). Sprint World Champion Martina Kocher (SUI), who elected not to compete in the three North American races, finished in fourth place ahead of the Austrian Miriam Kastlunger, 2012 Youth Olympic Champion in Innsbruck.
Aileen Frisch, a former Junior World Champion for Germany, slid home in twelfth position on her first appearance for the Korean squad. This is the best World Cup result to date for Korea as the country prepares to host next winter's Olympics.
Natalie Geisenberger's win means she takes the lead in the overall standings of the Viessmann World Cup ahead of her teammate Tatjana Hüfner (500) and the Canadian Alex Gough on 411 points.
Quotes
Natalie Geisenberger (GER / 2014 Olympic Champion, three-time World Champion and three-time European Champion):
"I would love to have had a second run, but there's nothing we can do when the weather is like that. But at the end of the day, a European title is a European title!"
Tatyana Ivanova (RUS / European Champion 2010 and 2012, World Championship silver medallist 2012 and 2015, World Championship bronze medallist 2016):
"I'm very, very happy with silver after such a poor first half of the season. My primary objective now is to be in the seeded group at the World Championships again."
Tatjana Hüfner (GER / Olympic Champion 2010, Olympic silver medallist 2014, Olympic bronze medallist 2006, and four-time World Champion):
"You can either strike it lucky or unlucky in weather like that."