Natalie Geisenberger, Nico Gleirscher and Steu/Koller win Nations Cup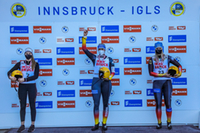 Igls (FIL) Olympic Champion Natalie Geisenberger (GER) confidently secured her World Cup ticket with her comeback after her maternity leave by winning the Nations Cup on Friday, November 27, 2020.
Austrians Nico Gleirscher and the duo Thomas Steu / Lorenz Koller also won the Nations Cup in luge on the Olympic track in Igls.
The four-time Olympic champion Natalie Geisenberger (GER) relegated her team mates Cheyenne Rosenthal (40.035) and Dajana Eitberger (40.082) to second and third place in 39.916 seconds. Olympic runner-up Dajana Eitberger also made her comeback in Innsbruck after her baby break.
In the men's race Nico Gleirscher (AUT / 50.076) won ahead of his team-mate ex-World Champion Wolfgang Kindl (50.441) and the Latvian Arturs Darznieks (50.515).
In doubles, local heroes Thomas Steu / Lorenz Koller won in 39.641 seconds at their comeback after Thomas Steu's leg injury, ahead of their team-mates Yannick Müller / Armin Frauscher (39.947) and the young Latvian Martins Bots / Roberts Plume (39.957).
Further information and ressults:
https://www.fil-luge.org/en/multimedia/eberspaecher-word-cup