National titles of Russia went to current World Champions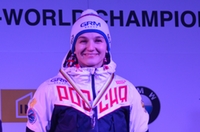 Sochi (RWH) The current World Champion demonstrated their ability. One month after the 49th World Championships of the International Luge Federation (FIL) in Sochi, Ekaterina Katnikova as well as Roman Repilov won the national titles of Russia on the same track.
Just a few days before her 26th birthday on March 22, Ekaterina Katnikova relegated Tatyana Ivanova and Viktoriia Demchenko to second and third place. Roman Repilov was followed by Semen Pavlichenko and Stepan Fedorov. In doubles competition Aleksandr Denisev-Vladislav Antonov, the silver medallists of the World Championships, lost against the new Russian Champions Andrei Bogdanov-Andrei Medvedev. Third place went to Vsevolod Kashkin-Konstantin Korshunov.