The Natural Track bus is on tour again: Established three years ago with FIL Coach Matteo Clara and active luger Patrick Pigneter (ITA) in leading positions, the tour bus visits various towns all over Europe every summer. This year, the tour bus has already made stops in Slovakia, in Poland, and most recently in Italy.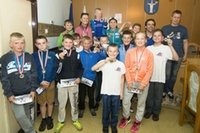 The goal of this FIL project is to introduce especially children and adolescents to Natural Track Luge and therefore to increase the recognition of the sport in general. With the aid of demonstration material, instructional videos, and the like, both beginners and slightly advanced students learn the basics of Natural Track Luge and can prove themselves afterwards, supervised by professionals, on wheel sledges. The most talented participants will be invited to the FIL School, which takes place every December and has already been used by several athletes as a springboard to the Junior Series of the Natural Track Luge World Cup.
The first stop of this summer's tour was Slovakia, where the Natural Track bus had already enthused children the year before – the fact that many of this summer's participants in Starý Smokovec (head office of the Slovakian Luge Federation) and in Lendak had also attended the program in the previous year may serve as proof. After the stop in Slovakia, the bus headed north to Międzybrodzie Bialskie (POL): There, beginners as well as some athletes from Poland's National Luge Youth Team listened to the explanations of Clara and professional luger Tina Unterberger (AUT), who supported the FIL Coach on this trip. Most recently, the Natural Track bus made a stop at the International Sportforum in Mals (ITA), where interested sport teachers could learn more about Natural Track Luge and also try themselves on wheel sledges.