In the Austrian valley Ötztal (AUT), the preparations for the 23rd FIL Luge World Championships on natural track are running high. At the end of June a top-class site visit was on the program at the Grantau-track in Umhausen.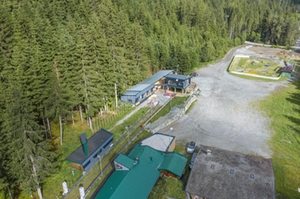 The World Cup-stadium at the finish area Photocredit: Andreas Ebermann
There is no work on the home-track of World Cup winner Thomas Kammerlander (AUT), the track keeps its very own character. The heart of the construction work is the new World Cup-stadium in the finish area. There you will find the press center, the technical inspection and a TV studio space. The new finish-stadium also forms the ideal location for the award ceremonies during the title fights in February 2021. "The construction work is going according to plan, the last details will be ready in time for autumn", says "host" Bruno Kammerlander. Markus Prock, the President of the Austrian Luge Association, was impressed: "The Grantau-track now has all the infrastructural facilities that a modern venue for luge on natural track needs. Above all, the desired sustainability was taken into account in the investments. "
Markus Prock (middle) Fotocredit: Andreas Ebermann
Participants in the site inspection were Markus Prock (President of the Austrian Luge Association), Hansjörg Posch (OK-Chief World Championships 2021) and Gerald Kammerlander (ÖRV Sport Director Natural Track).