Austrians Rupert Brüggler and Tobias Angerer have decided to put their luge sleds in the basement for good. In June, the 2017 World Champions officially announced their retirement from active racing to the Austrian Luge Federation.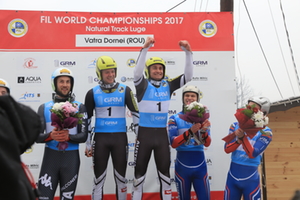 Rupert Brüggler and Tobias Angerer on top of the podium at the World Championships 2017
In winter 2006/07 Rupert Brüggler started his joint career with Tobias Angerer, culminating in the gold medal at the FIL World Championship in Luge on Natural Track in Vatra Dornei (ROU) 2017. Two years earlier they took the silver medal at the World Championship in Sankt Sebastian (AUT). The World Cup Final 2019 in Umhausen (AUT) in February was the last race of the 2017 World Champions. After twelve World Cup seasons a new phase of life has begun for Brüggler/Angerer.
"I don't miss luge now. But I think that beginning October/November I will get the itch again and I will definitely miss it" explains Rupert Brüggler, who is enjoying everyday life in Bischofshofen with his patchwork family.
Tobias Angerer is not thinking so much about the end of his luge career: After moving into the common house, Angerer will marry his partner: "I have been with Lisa for eight years now. I do not feel at all anxious about the wedding. But last summer I was nervous when I proposed to her on the peak oft he Großglockner (tallest mountain in Austria at 3798 meters) - that was very romantic ".
Career highlights of Rupert Brüggler/Tobias Angerer (AUT)
Gold medalists in doubles at the 2017 World Championships in Vatra Dornei (ROU)
Silver medalists in doubles at the 2015 World Championships in St. Sebastian (AUT)
3 World Cup victories in doubles
3rd place in doubles in 2017 World Cup ranking