New structure committee comes up with raft of ideas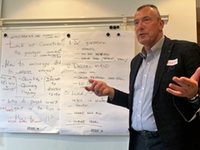 Innsbruck (RWH) The newly created strategy and structure committee of the International Luge Federation (FIL) has come up with a comprehensive and structured raft of ideas at its first meeting. Under the leadership of Secretary General Einars Fogelis, the working met during the first weekend of the new Viessmann World Cup season in Innsbruck.
The working group's remit is to develop a strategic plan that will be presented at the FIL Congress in 2020. The members of the committee include Vice President of Marketing Thomas Schwab (GER), Executive Member Dwight Bell (USA) and FIL General Counsel Christian Krähe (both GER).