Nigeria first African FIL member
Lausanne (FIL/24 May 2023) At its recent meeting in Lausanne (SUI), the Executive Board of the International Luge Federation (FIL) decided to admit the Luge Federation of Nigeria as a provisional member of the FIL. Nigeria is the first country on the African continent to become a member of the FIL.
FIL Development Director Fred Zimny has been in contact with Daniel Damola of Luge Nigeria for about two years. He approached the FIL to find out how athletes from Nigeria (NGR) could be integrated into the sport of luge and achieve an official FIL membership. Daniel Damola is enthusiastic and committed to the success of Nigerian luge and has presented a four-year plan to achieve the goal of FIL membership.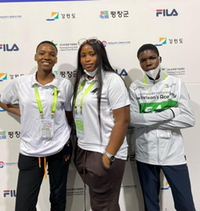 "Personally, I find it very exciting that we have another member nation and a new continent in the FIL family. Hopefully, Nigeria's membership will pave the way for other African nations to become active in luge, thus demonstrating the growing popularity and availability of the sport in all parts of the world," said Fred Zimny.
The young female athlete Uchegbu Gift and her male counterpart Charles Idongesit are the first two young athletes from Nigeria. Their coach is Precious Amarachi. The three have already taken part in an international training course organized by the Korean Luge federation for the 2022/23 season in PyeongChang. The program will start slowly and hopefully produce a handful of new athletes who will attend the next FIL school and then perhaps continue training in the FIL group.

"Damola has developed a six-point plan to introduce and develop the sport of luge in Nigeria and beyond in Africa. His plans are ambitious, but his enthusiasm is infectious. Funding will be a critical factor in the success of Luge Nigeria. The uniqueness of the sport on the African continent will hopefully be a major selling point," said FIL Development Director Fred Zimny.