Nine Viessmann World Cups on three continents and the World Championships in Whistler as the season highlight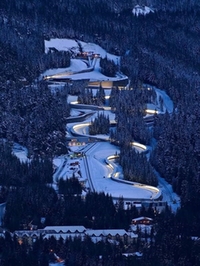 Berchtesgaden (RWH) The International Luge Federation (FIL) in Berchtesgaden has just published details of the pre-Olympic winter of 2020/2021, which will feature nine Viessmann World Cups in six different countries and on three continents. The highlight of the season will be the 50th FIL World Championships in Whistler, Canada, from 4 to 6 February 2021.
The luge winter traditionally gets underway in late November in Innsbruck (AUT) and ends in PyeongChang, Korea, stopping off in Altenberg, Oberhof, Winterberg (all GER), Sigulda (LAT), Königssee (GER), Lake Placid (USA) and Yanging (CHN) along the way. The Olympic track in Yanging is a new addition to the calendar for the XXIV Winter Olympic Games in Beijing.
Overview
Viessmann World Cup Innsbruck AUT 28–29 November 2020
Viessmann World Cup Altenberg GER 5–6 December 2020
Viessmann World Cup Oberhof GER 12–13 December 2020
Viessmann World Cup Winterberg GER 19–20 December 2020
Viessmann World Cup Sigulda LAT 9–10 January 2021
Viessmann World Cup Königssee GER 16–17 January 2021
Viessmann World Cup Lake Placid USA 22–23 January 2021
50th FIL World Championships Whistler CAN 4–6 February 2021
Viessmann World Cup Yanging CHN 20–21 February 2021
Viessmann World Cup PyeongChang KOR 26–27 February 2021