Olympic logo chosen for Milano-Cortina 2026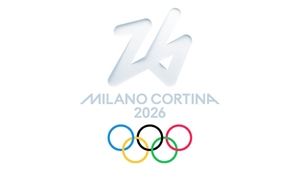 Milan (FIL) The new logo for the 2026 Olympic and Paralympic Winter Games in Italy was chosen in a worldwide public vote by sports fans between 7 and 25 March 2021. Over 871,000 votes were cast from 169 countries. 75 per cent of the participants chose "Futura" as their favourite. This is the first time an Olympic logo has been chosen by the public in an online vote.
The modern emblem features the "ice-white" numbers 2 and 6, which are linked together to symbolise the cohesion of the Olympic family. The "Futura" logo is intended to reflect Milano Cortina 2026's ambition to focus on sustainability and legacy. This builds on the commitment to use largely temporary and existing venues and infrastructure, the goal of hosting carbon-neutral Games and the ambition to boost economic development across northern Italy.
The Chair of the IOC Coordination Commission for Milano Cortina 2026, Sari Essayah, commented: "Congratulations to Milano Cortina 2026 on its new emblem. Influenced by the themes of sport, solidarity and sustainability, 'Futura' represents a dynamic and modern design that reflects some of the fundamental values of the Olympic and Paralympic Winter Games."
The logo was presented on Tuesday 30 March 2021 at the Isozaki Tower in Milan, the headquarters of the Milan-Cortina Foundation.