Olympic track for Beijing 2020 90 percent completed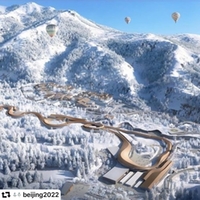 Beijing (RWH) The construction of the Olympic track for the 2022 Olympic Winter Games in Beijing, China, is making great progress. According to the state news agency Xingua, according to the industry service "Inside the Games", the artificial iced track in Yanqing is 90 percent completed. The national center at the same location for alpine skiing is 88 percent completed.
According to the local authorities, both venues belong to the 13 Olympic projects that are to be completed before 2021. The Olympic Village in Yanqing is said to be more than half built.