The South Tyrolean Patrick Pigneter was in Norway last weekend. In the land of cross-country skiers, ski jumpers and biathletes, he was scouting young talents for luge on natural track - e.g. on the legendary Holmenkollen.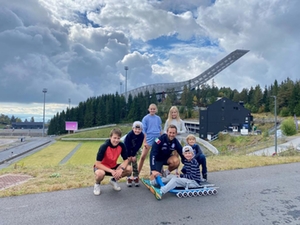 Patrick Pigneter (middle) with the participants in front of the legendary Holmenkollen ski-jump
Tarjei Bø (biathlon), Marit Bjørgen (cross-country skiing), Daniel-André Tande (ski jumping) and Aksel Lund Svindal (alpine skiing) are heroes in Norway – but you won't find a world-famous luger in the land of the moose. If Patrick Pigneter - the most successful luger on natural track - has his way, that should change in the future. As part of the FIL tour bus, the 34-year-old raised the bar in Oslo and Lillehammer for luge on natural track. Interested children and young people were introduced to the sport on a wheelluge. "We drove on the paved cross-country ski trail, the terrain is really excellent", enthused Pigneter after his return. There were 10-15 kids on the trial course at both Holmenkollen (Oslo) and Lillehammer. The International Luge Federation FIL provided the equipment.
The lead on site is the new general secretary Åshild Høva Sporsheim, the former biathlete wants to make luge popular in her home country. Pigneter was also accompanied by the former luger Knut Solheim, who ended his career after the World Championships on natural track in Grande Prairie in 2007.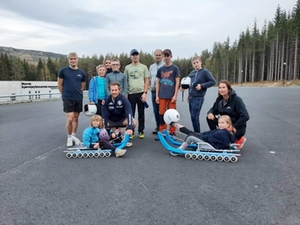 The FIL tourbus also stopped in Lillehammer - the host of the Olympic Wintergames 1994
"A start has been made, it would be ideal if we could come back to Norway with the FIL school next March. Then we could practice on ice with young atheltes", emphasizes Pigneter. The long-term goal is to have athletes from Norway as competitors in the World Cup - and to establish Norway as the venue for a FIL World Cup on natural track.