Peter Penz and Georg Fischler call time on their career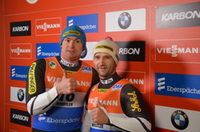 Innsbruck (RWH) The Austrian pairing of Peter Penz and Georg Fischler, silver medallists in the doubles at the Winter Olympics in PyeongChang (KOR) in 2018, have decided to call time on their career. The 2012 European Champions, who also clinched bronze in the team relay in PyeongChang, will remain involved with luge, according to a press release issued by the Austrian Luge Association (ÖRV). Peter Penz is set to become a coach for the association, while Georg Fischler will help the ÖRV with its preparations for the forthcoming season. He also hopes to start training as a police officer by the end of the year.
Penz and Fischler have spent the last 15 years as a doubles duo, and have experienced many highs and lows along the way. They won four World Championship medals in the doubles and two with the team. Not forgetting the silver medal at their home World Championships in 2017, just after Georg Fischler had been forced to take a break for a week due to a bout of myocardial disease. In Sochi (RUS) in 2014, the duo failed to win a medal despite being in third place at the halfway point. Redemption came on the artificial ice rink in Sochi a year later when they claimed silver in the European Championships.