Polish luger Mateusz Sochowicz on the road to recovery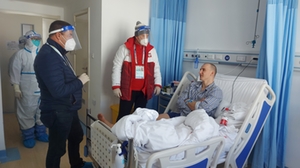 Yanqing (FIL) On November 11, International Luge Federation (FIL) Executive Director Christoph Schweiger and Polish coach Marek Skowronski visited luger Mateusz Sochowicz in hospital, as he recovers from a training injury, which was sustained earlier this week at the Yanqing Sliding Center (CHN).
Christoph Schweiger said: "Mateusz is receiving excellent medical care at the University Hospital in Yanqing. The accident is due to human error. Yesterday, we had the latest conversation with the track operators and with the Beijing 2022 Organising Committee and the work needed to get Mateusz home is in full swing".
It is expected that the 25-year-old luger will be able to leave hospital on Monday, 15 November. Sochowicz is still pursuing his big goal of participating in the Olympic Winter Games Beijing 2022.
FIL, together with the track operator in Yanqing, has introduced additional track safety measures for Beijing 2022 after the Sochowicz accident.