Positive response to FIL's offer of free women's doubles sleds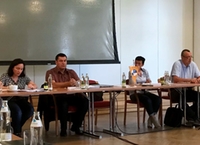 Großgmain (RWH) 17 national associations have accepted an offer by the International Luge Federation (FIL) to provide one of the new standardised sleds for the women's doubles discipline free of charge. The move was announced by FIL President Josef Fendt at the organisers' meeting in Großgmain, just outside Salzburg. The member associations have already ordered 30 women's doubles sleds. "The new discipline is a major challenge for us all," said Fendt.
The women's doubles will make its Olympic debut at the 2020 Winter Youth Games in Lausanne (SUI). The men's singles, women's singles, doubles and team relay will all remain on the schedule for the third edition of the Youth Games following previous events in Innsbruck (2012) and Lillehammer (2016).
The FIL has applied to the International Olympic Committee (IOC) for the women's doubles to be included in the 2022 Winter Olympics in Beijing (CHN). The IOC is also deciding whether to admit the sprint competitions into the Olympic programme.