Postponement and rescheduling of the 69th FIL Congress 2021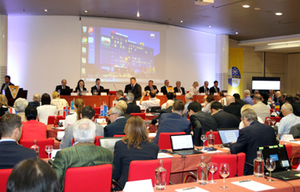 Berchtesgaden (FIL) The Presidium of the International Luge Federation, FIL, decided to postpone the 69th FIL Congress until September 2021 due to the still considerable restrictions and imponderables caused by the COVID-19 pandemic and to relocate it to a new Congress venue in Central Europe.
The 69th FIL Congress would have been held in June 2021 in China's Olympic city Beijing. After consultation with the responsible persons in China, the Congress cannot be held with certainty due to the valid COVID-19 entry restrictions. The FIL Presidium would like to thank the responsible persons of the Chinese Ministry of Sport and the Chinese Luge Federation for their understanding regarding the relocation.
FIL Executive Director Christoph Schweiger commented on the decision: "We hope to be able to hold the FIL Congress in Central Europe on September 24 and 25, 2021. The location of the Congress is still open at this point in time. According to the current state of knowledge, we assume that the travel of our delegates and friends from all over the world to Central Europe should be possible again as far as possible by the end of September".