Premiere for the women's doubles in the Youth A class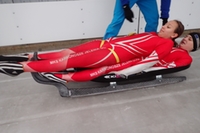 Berchtesgaden (RWH): The post-Olympic winter will see the International Luge Federation (FIL) write a brand new chapter in its 60+ year history. For the first time ever, the FIL's calendar will include women-only doubles races, though initially only in the Youth A class. The event is set to premiere on the 2002 Olympic track in Park City, Utah, in early December.
In the autumn of 2017, the women's doubles became the fifth discipline to be added to the programme for the 2020 Youth Olympic Games in Lausanne, Switzerland. The FIL then quickly launched a process to develop everything needed for the new sports equipment. "The process from the start of bidding to the creation of a track-ready prototype took just 60 days", says Christian Eigentler, Technical Director at the FIL and the international sports association's project manager.
The brand new sled took its maiden voyage on the artificial track in Sigulda, Latvia, in December 2017. The first women-only doubles sled was developed by the Austrian company Kästle, which is perhaps more famous as a producer of premium Alpine skis. A total of 35 women's doubles sleds have now been produced and are being loaned out for free to national associations by the FIL. "The offer has been very well received, with 17 national associations borrowing a sled so far," says FIL President Josef Fendt.
However, the IOC put paid to the FIL's hopes of having the new discipline added to the Olympic programme in time for the 2022 Winter Games in Beijing, China. Nevertheless, the prospects for the women's doubles are not all bad. If the Olympic test run in St. Moritz (which will be hosting the YOG races for luge, bobsleigh and skeleton) is a success, not much more will stand in the way of the future of the women's doubles event at the Olympics.