Race calendar for 2023/24 artificial track season published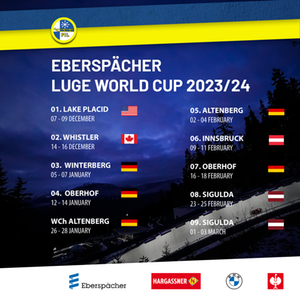 Berchtesgaden (FIL/23 March 2023) The 2022/2023 World Cup season has just ended and the planning for the next season is already in full swing. On March 23, the International Luge Federation (FIL) published the race calendar for the artificial track season 2023/2024.
In the three months from the beginning of December 2023 to the beginning of March 2024, nine EBERSPÄCHER Luge World Cups are scheduled. They will start in North America in December and the World Cup finals will be held in Latvia at the beginning of March. The highlight of the winter will be the 52nd FIL World Championships in Altenberg (GER) from January 16 to 18, 2024. The 2024 Youth Olympic Games for 15- to 18-year-olds will be held in South Korea from January 19, 2024.
The world's best luge athletes will start with the EBERSPÄCHER World Cup Series from December 7-9 in Lake Placid (USA) and then travel on to Whistler (CAN). The second EBERSPÄCHER World Cup will be held there from December 14 to 16.
Immediately after the Christmas break the races on the German tracks will follow. Winterberg in the Sauerland will be the first stop from January 5-7, followed by Oberhof, where the fourth World Cup of the season will be held from January 12-14. After an international training week on the World Championship's track, the 52nd FIL Worlds will be held in Altenberg, Saxony. Directly afterwards, the fifth EBERSPÄCHER World Cup will take place in the challenging SachsenEnergie track in Altenberg from February 02 to 04.
The world's best lugers will then travel to Austria. The sixth EBERSPÄCHER World Cup will take place on the Olympic track in Innsbruck-Igls from February 9 to 11. Once again, it's back to Thuringia for the seventh World Cup stop. From February 16 to 18, Oberhof will host the seventh Luge World Cup.
The last two EBERSPÄCHER World Cups are scheduled for the end of the 2023/2024 season from February 23 to 25 and the final from March 01 to 03, 2024 in Sigulda, Latvia.
Racing Schedule Artificial Track 2023/24 -> 2023-2024-fil-sport-calendar-general-class-march-2023-rev-0.pdf (fil-luge.org)
2023/2024 Racing Schedule Artificial Track Juniors