The International Luge Federation FIL has published the racing calendar for the FIL Luge World Cup on natural track. In the 2021/2022 season, the World Cup will be held in five countries.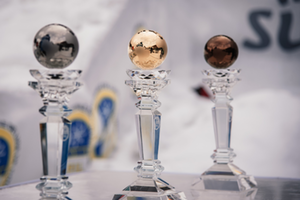 The World Cup globes in gold, silver and bronze for the top-3 in the overall standings
The racing calendar 2021/2022 is a "real" racing calendar after the corona-related adjustments in the past season and comes up with some interesting news. The FIL Luge World Cup on natural track starts in Umhausen (AUT) from January 7th to 9th. The next stop is Seiser Alm/Alpe di Siusi (ITA) from January 14th to 16th. The track on the largest high plateau in Europe last hosted a World Cup in 2014. On the last two weekends in January the World Cup entourage will tour to Vatra Dornei (ROU) and Zelezniki (SLO). While Vatra Dornei (January 21-23) is a traditional host in the racing calendar, the World Cup in Zelezniki (January 28-30) will take place for the first time since 2017.
European Championships in Laas/Lasa
After a three-week break, the European Luge Championships on natural track will take place from February 17th to 20th in Laas/Lasa (ITA). The defending champions are Michael Scheikl (AUT), Evelin Lanthaler (ITA) and Patrick Lambacher/Matthias Lambacher (ITA).
After the championships, two races are on the program in the Russian capital Moscow (February 25-28). After the classic World Cup, the only eliminator (former pursuit) will be held on Monday. The FIL World Cup 2021/2022 will come to an end in Mariazell (AUT) from March 4th to 6th with the grand finale.
Junior World Championships in February
The Junior Luge World Cup on natural track starts on December 30th - 31st in Winterleiten (AUT), on January 5th - 6th the second stop in Latzfons (ITA) is on the program. After the races in Umhausen (AUT) on January 29th - 30th, the Junior World Championships will follow in Jaufental/Val di Giovo (ITA) from February 4th - 6th, followed by the World Cup final on February 12th - 13th Unterammergau (GER).
"We are very happy with this racing calendar and we hope that the epidemiological situation in the coming winter will allow us to hold all the races as planned. It would also be very important for the organizers on site that spectators are allowed to attend the races again," explains natural track sports director Andreas Castiglioni.

FIL Luge Worldcup on Natural Track:
Umhausen (AUT) January 7th - 9th, 2022
Seiser Alm/Alpe di Siusi (ITA) January 14th - 16th, 2022
Vatra Dornei (ROU) January 21st - 23rd, 2022
Zelezniki (SLO) January 28th - 30th, 2022
Moscow (RUS) February 25th - 28th, 2022
Moscow (RUS) February 28th, 2022 (Eliminator)
Mariazell (AUT) March 4th - 6th, 2022 (Finale)
FIL Luge European Championships on Natural Track:
Laas/Lasa (ITA) February 17th - 20th, 2022
FIL Luge Junior Worldcup on Natural Track:
Winterleiten (AUT) December 30th - 31st, 2022
Latzfons (ITA) January 5th - 6th, 2022
Umhausen (AUT) January 29th - 30th 2022
Unterammergau (GER) February 12th - 13th, 2022
FIL Luge Junior World Championships on Natural Track:
Jaufental/Val di Giovo (ITA) February 4th - 6th, 2022
FIL Youth Games:
Prein (AUT) January 22nd - 23th, 2022