Reduced program at the Viessmann Luge World Cup at Whistler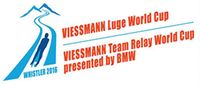 Whistler (RWH) - Mother nature has dominated the Viessmann Luge World Cup in Whistler, B.C., Canada, and forced International Luge Federation (FIL) officials to a reduced program for the race.
Due to transportation problems, caused by a snowstorm in the Canadian Prairies, athlete sleds will not arrive until Friday. As a result, men's and women's singles and doubles will all be reduced to one-heat races on Saturday, December 10. The Viessmann Team Relay World Cup, presented by BMW, has been cancelled.
The new schedule for Whistler was announced Thursday by Maria Luise Rainer, the Sport Director of the FIL.
A massive snowstorm, rolling through the Prairies, stopped the trucks transporting the athletes sleds from Lake Placid, N.Y. to Whistler. The journey ended in Brandon, Manitoba, approximately 2,000 kilometers (1,500 miles) from Whistler. Later the FIL decided to continue the transportation as soon as possible with a charter flight from Winnipeg to Vancouver. Therefore, the sleds, in a best case scenario, are anticipated to arrive early Friday morning at the Whistler Sliding Centre.
New timetable Whistler
Saturday
Dezember 10th
Women (1 run): 05.00 pm (local time) / 02.00 CET
Double (1 run): 06.20 pm (local time) / 03.20 CET
Men (1run); 07.40 pm (local time) / 04.40 CET