Reinhard Egger wins as Königssee race abandoned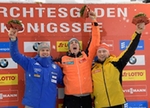 Königssee (RWH) Lady Luck was behind Reinhard Egger's win at the Viessmann Luge World Cup in Königssee. The Austrian took his first World Cup victory when the race was abandoned during the second heat, with the final result based on the first run. Amidst heavy snowfall, Egger led after the first run ahead of Italy's Dominik Fischnaller and Sebastian Bley (GER) to achieve a career-best finish in the Viessmann Luge World Cup.
Race director Matthias Böhmer (GER) stopped the race for safety reasons after 18 athletes had taken to the track in the second heat. Maria-Luise Rainer, Sports Director of the International Luge Federation (FIL) explained that the snow was causing severe impairment of vision.
After seven of twelve events, Germany's Johannes Ludwig retains his lead in the overall standings of the Viessmann Luge World Cup with 441 points. Russia's Roman Repilov has now moved up to second (413). Austrian World Champion Wolfgang Kindl lies third overall (404).
The next round of the series takes place next weekend (12-13 January 2019) on the artificial ice track in Sigulda, Latvia.
Quotes
Reinhard Egger (AUT / Olympian in 2014 and 2018)
"Training went really well for me. I'm just really enjoying myself at the moment. If it was up to me, I'd like things to keep going as they are. This is an outdoor sport so we have to expect conditions like this sometimes."
Dominik Fischnaller (ITA / World Championship bronze medallist 2017, Olympic fourth in 2018)
"I'm happy with second place."
Johannes Ludwig (GER / World Cup leader, Olympic Champion in Team Relay, Olympic bronze medallist in 2018, World Championship bronze medallist in 2013)
"I know how much is involved in organising a race like this, but it might have been better not to start it in the first place. But like I said, I'm well aware what cancelling it means for organisers and TV broadcasters. It's really tight at the top of the standings, so there is plenty of excitement in store for the next race."