Russian Pair prevents German Dominance at Junior World Championships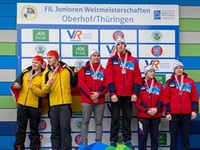 Oberhof (RWH) Russia's pair of Dimitry Buchnev-Daniil Kilseev has won the title in doubles race of the 2020 Junior World Championships in Oberhof, Germany. Buchnev-Kilseev, silver medallist of 2019 Junior's World Championships, relegated Max Ewald-Jakob Jannusch (GER) and their team-mates Mikhail Karnaukhov-Iurii Chirva to second and third place. Mikhail Karnaukhov/Iurii Chirva have been the bronze medallists of the 2020 Youth Olympic Games in Lausanne. In the Team Relay competion host Germany won in the line-up with Jessica Degenhardt, Moritz Bollmann Ewald-Jannusch in front of Latvia's (Elina Vitola, Gints Berzins, Sevics-Mikelsevics-Krasts) and Russia's quartett (Diana Loginova, Matveiy Perestoronin, Buchnev-Kilseev).
On the opening day the titles of women's and men's single went to Germany's Jessica Degenhardt and her team-mate Moritz Bollmann. In women's race Jessica Degenhardt relegated Russia's Diana Loginova and Lisa Schulte from Austria to second and third place. Merle Fräbel, 2020 Youth Olympic Champion, finished on fourth place. Moritz Bollmann won his first title. Silver and bronze went to 2020 Youth Olympic Champion Gints Berzins from Latvia and David Nößler from Germany.