In luge on natural track there is a prominent retirement to report. Sara Bachmann (GER) has ended her career.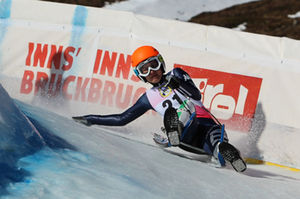 Sara Bachmann in the blue outfit of the Italian team
Sara Bachmann was an anchor in the FIL Luge World Cup on natural track. The Junior European Champion 2013 (Novouralsk) and bronze medalist at the 2012 Junior World Championships in her home town of Latsch (ITA) began her sporting career with the Italian Winter Sports Association FISI before moving to the German Bobsleigh and Sled Association BSD after the 2016/2017 season.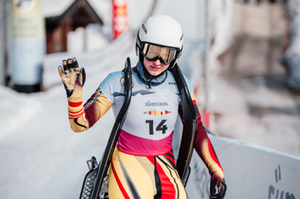 Last race in Mariazell in February 2022
Bachmann celebrated her World Cup debut in 2012 in Laas/Lasa (ITA) and immediately finished fourth. Interesting detail: the girl from Latsch made her first appearance in the general class a year earlier at the FIL World Championships in luge on natural track in Umhausen (AUT) in 2011. As the youngest starter, the then almost 16-year-old finished sixth.
In her ten-year career in the World Cup, Bachmann celebrated a total of seven (five for Italy, two for Germany) podium places (Laas, Deutschnofen 2014/2015, Deutschnofen 2015/2016, Zelezniki, Deutschnofen 2016/2017 and Umhausen 2017/2018), as well as one podium in the team competition in Winterleiten 2019/2020. Bachmann finished the overall World Cup twice (2014/2015 and 2016/2017) in fifth place.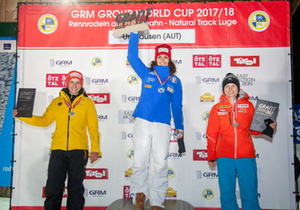 Last podium at the finale 2018 in Umhausen (AUT) with Evelin Lanthaler (ITA/middle) and Tina Unterbeger (AUT/right)
Bachmann narrowly missed out on medals several times at major events. She came fourth at the 2014 World Championships in St. Sebastian (AUT) and 2017 in Vatra Dornei (ROU), as well as at the 2018 European Championships in Winterleiten (AUT).
"Lately it has become increasingly difficult to reconcile work and sport. With a full-time job, you no longer get enough training days. And without training there is no success," says Bachmann. The 27-year-old now wants to spend more time with her family. The entire FIL team wishes all the best.