Season preparation Team USA in the Corona crisis: "I consider it a sign where we stand mentally!"

Lake Placid (FIL) The Covid-19 pandemic has been preoccupying the world since the beginning of 2020. After the absolute crisis and the lockdown in New York City, the US state has fought the corona virus quite successfully and is taking measures against an imminent relapse into the pandemic. In addition to stopping the vast majority of indoor activities, Governor Andrew Cuomo also expanded the restrictions on travelers from around the world and even on U.S. citizens from 31 of the 50 states in the U.S.
Robert Fegg has been the new head coach of the US National Luge Team since mid-May. Due to entry restrictions, he has not been able to travel from his home town Calgary (Canada) to the US training base in Lake Placid to join his team for the past five months. "This is the longest time I have ever been home in one go", jokes the former German luge athlete and internationally experienced coach. Fegg has a sled workshop in his private home in Calgary and says: "I never get bored. I have had material sent to me from Lake Placid and I build our racing sleds in my workshop at home. In addition, I keep in touch online almost daily with my colleagues, our coaches, officials and of course the athletes in Lake Placid and Park City. I don't need to know everything but I want to be involved all the time!"
After the end of the season at the beginning of March, the USA World Cup team travelled to Lake Placid and wanted to complete training runs and material tests throughout March. Then the corona crisis came to New York State and the track at Mount van Hoevenberg was closed. The lockdown followed. All athletes of the US Luge team stayed at home. The federation organized training equipment for the athletes to keep them individually athletically fit.
Robert Fegg reports: "This was a very challenging time for everyone. I also see it as a guide to where we stand mentally, who can react flexibly and creatively to such a crisis and where we need to seize opportunities and fill gaps.
From the middle of May we were able to open our great new start training facility and set up a special temporary weight room in this new building. You can also paddle there on tartan, so 80 to 85 percent of the necessary training was then possible again. USA Luge was prepared very quickly. The federation has done an excellent job in these difficult times!"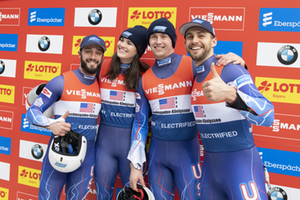 Nobody knows what the future holds. The head coach of USA Luge thinks positively: "At the moment, the number of infections has dropped significantly in New York and continues to do so. The measures are very strict. We are happy to adhere to all guidelines and want to be able to travel again in about four weeks. Our federation, ORDA, the TV network NBC and the State of New York will do everything to ensure that the Luge World Cup in Lake Placid in January 2021 can take place and will be safe for everybody!"