With the finale in Umhausen (AUT) on February 19th, the FIL World Cup 2022/2023 in natural track luge came to an end. For three greats of this sport it was the last race of their careers. Greta Pinggera (ITA), Alex Gruber (ITA) and Thomas Kammerlander (AUT) put the luge in the basement. "This marks the end of an era," natural track sports director Andreas Castiglioni sums up.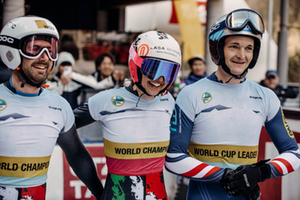 (from left) Alex Gruber (ITA), Greta Pinggera (ITA) and Thomas Kammerlander (AUT)
Berchtesgaden (FIL/02.03.2023) FIL: Let's take a look back at the past three months, what do you remember from the 2022-2023 season?
Andreas Castiglioni: "Well, first of all, of course, that after two Corona seasons with contact restrictions, compulsory masks, etc., we finally had a World Cup again without restrictions. The spectators also came back on track again."
FIL: Regarding the spectators, how did the fans react to the races?
Andreas Castiglioni: "I think everyone was happy, that top-class sport was again on venue. Especially on the tracks that are easy to reach, such as Jaufental/Val Giovo (ITA), Deutschnofen/Nova Ponente (ITA) and Umhausen (AUT), the energy among the spectators was almost better than before the pandemic."
FIL: What is your conclusion from a sporting point of view?
Andreas Castiglioni: "Clearly positive: At the World Championships, for example, four nations (Italy, Austria, Slovenia and Germany) entered the medal table, and these four countries were also on the podium at the Junior European Championships. The World Cup could hardly have been more exciting, with Lambacher/Lambacher (ITA) there was a premiere winner in the doubles, veteran Patrick Pigneter has won a World Cup race again after a four-years and with Slovenia and Slovakia the so-called "small" nations have also stood on the podium several times ."
FIL: There were again postponements or cancellations in the racing calendar, combined with criticism of the International Luge Federation FIL.
Andreas Castiglioni: "We are an outdoor sport, we are natural track luge. The name "nature" already says that we have to adapt to nature. It sometimes happens that a track isn't ready in time because it's too mild. In the past, races had to be postponed because there was too much snow. Speaking of the World Championships in Romania: the FIL awards title fights two years in advance, otherwise it wouldn't be possible. But who knew at the congress in summer 2021 what the temperatures would be in Vatra Dornei in January 2023? There will always be critics, you can't always please everyone. My conclusion is that despite everything, we had a very nice season with great races, and that counts".
FIL: But is there a lever to apply somewhere?
Andreas Castiglioni: "I don't want to make a snapshot here. We are currently discussing various approaches, and these will be an important topic at the commission meeting at the end of March. We want to develop further, the commission has been reorganized and there are working groups that deal intensively with the various topics (material, race formats, future, sponsorship, mass sport, etc.)".
FIL: At the finale in Umhausen, three big names in natural track luge ended their careers. worried about the future?
Andreas Castiglioni: "All three, Pinggera, Gruber and Kammerlander, have had a big impact to this sport in the last 10-15 years and were very successful: Together they have five world championship titles, seven overall victories and 48 World Cup victories! This undoubtedly marks the end of an era. But the youth are catching up, Junior World Champion Fabian Brunner (ITA), for example, was on the podium three times in the World Cup. Junior World Champion Riccarda Ruetz (AUT) has already secured a podium, as have the Junior World Champions in doubles, Matevz Vertelj/Vid Kralj (SLO). I'm not worried about the future, luge is experiencing a big upswing."