Two World Cup victories each for Germany, Latvia and Austria in Team Relay - Germany wins titel for the ninth time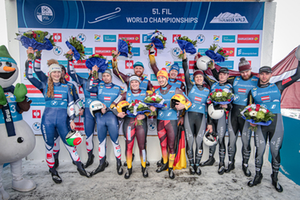 Salzburg (FIL/31 May 2023) The EBERSPÄCHER Team Relay World Cup presented by BMW brought two victories each for Germany, Latvia and Austria in six World Cup events.
While Austria won on the German tracks in Altenberg and Winterberg and Latvia was on top of the podium twice at home in Sigulda, Germany won in Whistler, Canada, and in the Swiss winter sports resort of St. Moritz.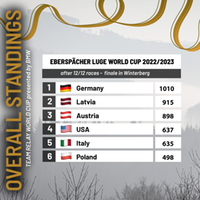 The German quartet was the only one to finish on the podium in all six team relay events this season. With two victories and four second places, the team of head coach Norbert Loch secured the overall World Cup title in the EBERSPÄCHER Team Relay World Cup presented by BMW with 540 points ahead of Latvia (470 points) and Team Austria (340 points). For Germany it was the twelfth overall World Cup victory in the Team Relay.
Thanks to one silver and two bronze medals at the World Cups in Sigulda, St. Moritz and Winterberg, the U.S. quartet finished fourth overall with 335 points, just five points behind bronze, which was secured by Austria. Italy finished fifth and Poland sixth.
Team Germany wins ninth World Championship title in relay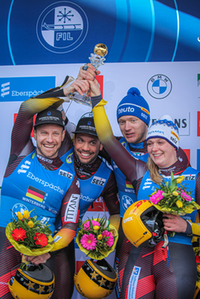 The 51st FIL Luge World Championships came to an end on Sunday, January 29, with the Team Relay at the LOTTO-Thüringen Ice Arena in Oberhof. It was the expected exciting and emotional highlight of the World Championships weekend. In front of 5300 enthusiastic spectators, Team Germany with Anna Berreiter, Max Langenhan and Toni Eggert/Sascha Benecken was crowned World Champion.
The German quartet won in 2:22.266 minutes just ahead of Team Austria with Madeleine Egle, Jonas Müller and the doubles Yannick Müller/Armin Frauscher (+0.023 sec.) and Team Latvia with Kendija Aprajode, Kristers Aparjods and the double Martins Bots/Roberts Plume (+0.400 sec.). The Team Relays from Italy, USA and Poland finished fourth to sixth. Ten of the eleven starting team relays finished, as Team China fluffed at the changeover touch pad.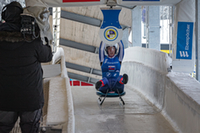 For the German team, which has dominated the World Championships on its home track in Oberhof, it was its ninth overall relay victory at the World Championships. Since the 2008 World Championships in Oberhof, only Team Germany has finished on the podium in all eleven relay events, nine times on top. Team Austria has won gold once and silver four times, while the relay of Latvia has won silver twice and bronze five times. The Canadian quartet has won one silver and three bronze medals in the history of the Team relay World Championships. The U.S. luge athletes have one silver and one bronze medal.