The upcoming weekend (January 14th-16th, 2022) in Umhausen (AUT) the second stage of the FIL Luge World Cup on natural track is on the program. At the kick off last Sunday, the reigning world champions prevailed in all three categories (women's single, men's single and doubles).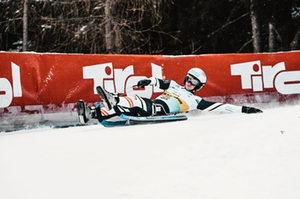 In Umhausen Thomas Kammerlander (AUT) is the quarry
Local hero Thomas Kammerlander is a force on his home track. "Kammi" has won the last three races on the "Grantau"-track. In his last victory last Sunday, the world champion had the luck on his side, he beat Alex Gruber (ITA) by just 0.08 seconds and Michael Scheikl (AUT) by 0.21 seconds.
Highlight video of the races last Sunday
In the women's season, the win at the season opener went to Evelin Lanthaler (ITA). The world champion took her 33rd World Cup victory with a lead of 1.09 seconds over junior world champion Lisa Walch (GER), Greta Pinggera (ITA) finished third.
Highlight video of the races last Saturday
The reigning world champions also prevailed in the doubles race: Patrick Pigneter/Florian Clara (ITA) took their 66th World Cup victory with the best time in both races, followed by Pavel Porshnev/Ivan Lazarev (RUS) and Fabian Achenrainer/Simon Achenrainer (AUT).

All three races on Saturday and Sunday will be broadcast live on the FIL homepage https://www.fil-luge.org/de/live-streaming-naturbahn
Program 2nd FIL Luge World Cup on natural track, Umhausen (AUT)
Friday January 14th
9.30 a.m .: National training single
afterwards national training doubles
Saturday, January 15th
10.00 a.m .: 1st competition run woman's single
11.00 a.m .: 1st competition run doubles
11.45 a.m .: Finale woman's single (followed by flower ceremony)
12.45 p.m .: Finale doubles (followed by flower ceremony)
Followed by award ceremony woman's single and doubles
Sunday January 16th
10.00 a.m .: 1st competition run men's single
11.30 a.m .: Finale men's single (followed by flower ceremony)
Followed by award ceremony for men's single