Semen Pavlichenko wins second European Championship title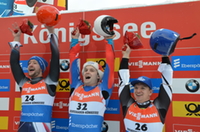 Königssee (RWH) Russia's Semen Pavlichenko has taken European gold for the second time in his career. The 2015 World Champion won the title at the 5th Viessmann World Cup on the artificial ice track in Königssee, which also doubled as the 48th European Championships of the International Luge Federation (FIL). Behind Pavlichenko, who previously won the European title in 2015, Ralf Palik (GER) took silver, having achieved the same result here in the 2016 World Championships. Austrian slider Wolfgang Kindl finished third in the World Cup race, winning European bronze in the process.
Local hero Felix Loch, who clinched his fifth World Championship title on his home track in 2016, had to settle for fourth.
Roman Repilov (RUS) took fifth place to retain his overall lead in the World Cup rankings on 462 points, ahead of Austria's Wolfgang Kindl (436), and Felix Loch of Germany on 435 points.
The sixth Viessmann World Cup of the season will be held on the artificial ice track in the Latvian town of Sigulda from 14-15 January 2017. The itinerary in Sigulda will feature all seven World Championship events, just 14 days ahead of the main event of the season, the FIL World Championships on the Olympic ice track in Innsbruck, Austria (26-29 January 2017). In addition to the men's, women's, doubles and team relay Olympic disciplines, the three BMW Sprint World Cup races are also on the agenda.
Quotes
Semen Pavlichenko (RUS / World Champion 2015, European Champion 2015):
"Before the start a spectator told me that this was my kind of weather and it would be a good day for me. He was right!"
Ralf Palik (GER / 2016 World Championship silver medallist and European Championships bronze medallist):
"Königssee seems to be my favourite track. I love driving here and the crowd is always fantastic."
Wolfgang Kindl (AUT / World Championship bronze medallist in 2015 and 2016, and European Championship silver medallist in 2010):
"The ice was good to me today, much better than it would have been in the snow yesterday. I was able to put my training to good use in the race, so I'm over the moon."