The FIL Luge World Cup on Natural Track turns into the home straight. The big World Cup final will take place in Umhausen (AUT) on Friday and Saturday. At the showdown on the "Grantau"-track four athletes are fighting for victory in the overall ranking.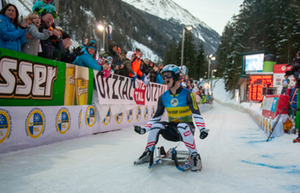 Thomas Kammerlander celebrating in Umhausen 2019
The omens could not be better and promise a top-class final: after six races, only 50 points separate the top four in the men's single. Defending champion and local hero Thomas Kammerlander (AUT) is in the lead with 500 points (two wins of the season), followed by Patrick Pigneter (ITA) with 480 points, who could not celebrate a win this winter but was on the podium in all races. With 470 points, Michael Scheikl (AUT) is in third place (two wins of the season). Alex Gruber (ITA) also has two wins of the season, but with 450 points the World Champion only has a mathematical chance to win his first crystal ball.
"There is no tacting at the final, attack is the best form of defence," emphasizes Thomas Kammerlander, for whom the overall World Cup was not so important at the beginning of the season, "but that has changed suddenly, now I want the fourth globe".
Last year Patrick Pigneter celebrated his only victory of the season at the final in Umhausen, in the overall standing he is 20 points behind Kammerlander: "My chances are actually not too bad, even if I need help from other competitors. Each of the four of us can win, I will go all in and then we will see the final outcome. "
Fact is Kammerlander at least has to finish the race on second position to get the crystal ball, no matter who wins. Pigneter and Scheikl, on the other hand, have to win the final and also need the support of Gruber as "Joker" in second place to fix the victory in the overall World Cup standing. If Gruber wins, Kammerlander will also be awarded a third place to win the crystal ball.
For women, defending champion Evelin Lanthaler (ITA) secured the overall World Cup for the third year in a row at the penultimate race in Laas (ITA), but Greta Pinggera (ITA/470 points) and Tina Unterberger (AUT/465 points) are in a close run for second place.
In the doubles Patrick Pigneter/Florian Clara (ITA) are 85 points ahead of the Russians Pavel Porshnev/Ivan Lazarev. The 11th crystal ball in a doubles for Pigneter/Clara is merely a matter of form.
The races in Umhausen are on livestream at the FIL homepage.
Program
Thursday, 13.02.2020
1:00 p.m. Technical Official Meeting
2:00 p.m. Team Captain´s Meeting
4:00 p.m. 1st training run double
followed by 2nd training run double
6:15 p.m. 1st training run women
followed by 1st training run men
Friday, 14.02.2020
2:00 p.m. 2nd training run women
3:00 p.m. 2nd training run men
4:20 p.m. 1st qualification run women
5:30 p.m. 1st qualification run men
6:45 p.m. 1st qualification run doubles
followed by award ceremony Nations Cup women, men, doubles
Saturday, 15.02.2020
3:00 p.m final run doubles
followed by flower ceremony doubles
4:00 p.m. final run women
followed by flower ceremony woman
4:45 p.m. final run men
followed by flower ceremony men
6:15 p.m Team competition
followed by flower ceremony team
7:00 p.m. award ceremony women, men, doubles, team
8:30 p.m. award ceremony overall ranking women, men, doubles, team
followed by After-Race-Party in the pavilion with DJ Mista T