Sigulda to host BMW Sprint World Cup finale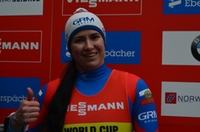 Sigulda (RWH) Russian slider Tatyana Ivanova, her compatriot Roman Repilov, and the German World Champions Toni Eggert/Sascha Benecken travel to Sigulda as leaders of the Viessmann World Cup. The only artificial ice track in the Baltic states is gearing up to host the sixth round of the Viessmann World Cup on January 25-26, 2020, including the grand finale of the BMW Sprint World Cup.
After Sigulda, the only remaining Viessmann World Cup events of the season will take place in Oberhof (January 31–February 1, 2020), Winterberg (February 22-23, 2020) and Königssee (February 29 – March 1). The highlight of the season, the 49th World Championships of the International Luge Federation (FIL), will be staged in the Russian city of Sochi from February 14-16, 2020.
There has been a notable upturn in the Russian athletes' form as their first ever home World Championships draws nearer. In Lillehammer, Russia's head coach Sergey Chudinov looked on as his charge Tatyana Ivanova claimed two individual wins and Aleksandr Denisev/Vladislav Antonov emerged victorious in the doubles race.
"It doesn't mean anything in terms of the World Championships," said Denisev, who won last year's Viessmann World Cup and BMW Sprint World Cup in Sochi. "The World Championship in Sochi is a completely different ball game," he explains, although a certain home advantage is undeniable. The Russian contingent won six of seven races in in Sochi last season. They did equally well in Sigulda last year, winning two of four races on the track they have long used for training.
Doubles duo Eggert/Benecken retain their lead in the overall standings of the Viessmann World Cup with 597 points ahead of their compatriots Tobias Wendl/Tobias Arlt (517) and Austria's Thomas Steu/Thomas Koller (486).
Tatyana Ivanova, who leads the women's standings on 582 points ahead of Julia Taubitz (GER / 550) after seven of 12 events, needs a comfortable cushion going into the three German races at the end of the season if she is to have any hope of ending the Germans' 21-year winning streak in the women's event.
Repilov, the overall season winner in 2016/2017, retains his lead in the men's standings on 536 points. Lillehammer winner Dominik Fischnaller of Italy (450) moves up to second ahead of Sprint World Champion Jonas Müller (419) from Austria.