Snow race in St. Moritz: Latvian Vitola celebrates first World Cup victory - Geisenberger wins Overall World Cup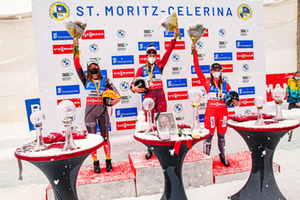 St. Moritz (FIL): This final of the EBERSPÄCHER Luge World Cup will go down as a very special one in the history of the Luge World Cup. Firstly, after nine years, a Luge World Cup was once again held in the Olympic Bob Run, the only natural ice track in the world. But in addition, heavy snowfall severely affected the women's race, and led to a surprising outcome. If usually thousandths of a second decide the standings, this time the distances were much larger.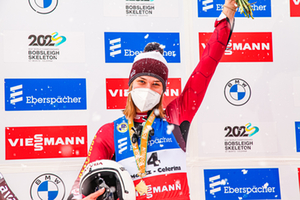 Elina Ieva Vitola celebrated her first victory in the World Cup. The 20-year-old Latvian from Sigulda succeeded in two consistent runs. After the first run she was fifth, in the second she achieved the third best time. "That I had become European U23 champion in Sigulda was already unbelievable," said Vitola, "but I didn't expect this victory at all."
With best time in 56.384 seconds in heat two, Germany's Julia Taubitz still managed to improve from position nine to second place. Third in her home race was Switzerland's Natalie Maag. "When I sat on the sled before the second run, the nervousness came abruptly," said the 23-year-old from the Zurich Oberland.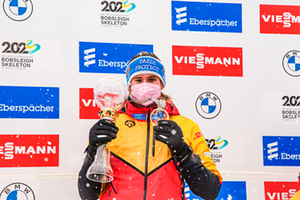 Even though her race did not go as usual with 13th place, Natalie Geisenberger could still beam. The four-time Olympic champion took the big crystal globe for her triumph in the overall World Cup for the eighth time. The 33-year-old German thus crowned her comeback season after becoming a mother to her son Leo last May. "If someone had told me in the summer that I would win the overall World Cup as well as a silver medal at the World Championships, I would have taken it immediately," she said, beaming with joy. Two victories, including the 50th and 51st of her career, and nine second places show her consistency. That's why she added: "I can be very proud of how it all went. Not only athletically, but that I am also suited as a mother. However, without the support of my husband and parents, I wouldn't be able to manage anything like this."
Second was her teammate and predecessor in the overall World Cup 2020 Julia Taubitz ahead of Dajana Eitberger. The 30-year-old also took a break last season due to the birth of her son Levi.

The two Ukrainians Olena Stetskiv and Yulianna Tunytska were unlucky. This is because the road from their hotel to the Maloja Pass could not be cleared in time after the heavy snowfall, and therefore they had to cancel their start.