Sprint gold goes to Ekaterina Katnikova, Roman Repilov and Denisev/Antonov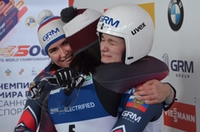 Sochi (RWH) The World Champions in the luge sprint are Ekaterina Katnikova, Roman Repilov and Aleksandr Denisev/Vladislav Antonov, all of whom compete for Russia and so got the host nation's World Championships off to the best possible start. The International Luge Federation (FIL) awarded the fourth titles in the new format at the 49th World Championships, following on from the previous events in 2016, 2017 and 2019. Russia won four of the first nine medals, while the remaining medals were distributed between four other national associations – Latvia, Italy, Austria and Germany.
In the women's event, Ekaterina Katnikova was the surprise successor to Natalie Geisenberger (GER), who has skipped this season to start a family. Silver went to Katnikova's compatriot Tatyana Ivanova, while Eliza Cauce from Latvia claimed bronze. Julia Taubitz (GER), last year's World Championship silver medallist in the sprint, came home in fourth place.
Victory in the men's race went to the former Junior World Champion Roman Repilov, who previously clinched second in the sprint World Championships in Innsbruck in 2017. Silver in Sochi went to Olympic Champion David Gleirscher (AUT), who claimed his first World Championship medal. Bronze was won by Italy's Dominik Fischnaller. Defending champion Jonas Muller, who has taken victory in two Viessmann World Cups this winter, finished fifth behind the Russian Aleksandr Gorbatcevich. Two-time Olympic Champion Felix Loch (GER), who won silver in Winterberg in 2019 and claimed the World Championship title in 2016, ended up in 13th place.
Gold in the doubles went to Aleksandr Denisev/Vladislav Antonov (RUS), who won both the Viessmann World Cup and the BMW Sprint World Cup in Sochi last year. Second place went to the Italians Emanuel Rieder/Simon Kainzwaldner, who are starting only their second winter as a doubles pairing. In 2012, Simon Kainzwaldner and his then partner Florian Gruber took gold in the doubles at the inaugural Youth Olympic Games. Bronze went to Tobias Wendl/Tobias Arlt (GER), who were crowned Olympic Champions in doubles at the same track back in 2014. The defending champions Toni Eggert/Sascha Benecken came fourth, just one thousandth of a second behind their teammates.