Sprint World Champions Denisev/Antonov win in Winterberg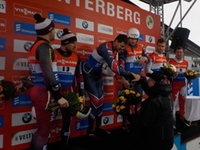 Winterberg (RWH) Russia's Sprint World Champions Aleksandr Denisev/Vladislav Antonov defied the heavy rain in Winterberg to celebrate the fifth Viessmann World Cup victory of their career at the event in the Hochsauerland region of Germany. The European Champions pushed Latvia's Oskars Gudramovics/Peteris Kalnins (LAT), who finished fourth at the 2019 World Championships in Winterberg, into second place. The Polish pairing of Wojciech Chmielewski/Jakub Kowalewski, the 2016 U23 World Champions, secured their first podium finish and therefore enjoyed the Polish team's greatest success in the Viessmann World Cup to date.
During heat one, the Latvian duo Andris Sics/Juris Sics had a lead of almost two tenths of a second up to corner nine, but then messed up the exit to corner ten and found themselves back in eleventh place at the mid-way point of the race. The 2010 Olympic silver medallists and 2014 Olympic bronze medallists finished the race in ninth place.
Due to concerns about safety, the German doubles teams of World Champions Toni Eggert/Sascha Benecken and the two-time Olympic Champions Tobias Wendl/Tobias Arlt and the Winterberg-based duo Robin Geueke/David Gamm did not compete in the race. The Austrian pairing Yannick Müller/Armin Frauscher and Team USA's Chris Mazdzer/Jayson Terdiman missed the race for the same reason.
Ahead of the final to the Viessmann World Cup on the artificial sliding track in Königssee (29 February / 1 March 2020), Eggert/Benecken are on 772 points, while Wendl/Arlt are ten points behind (762) followed by Sics/Sics in third place with 650 points. Denisev/Antonov are fourth with 600 points.
Quotes
Aleksandr Denisev/Vladislav Antonov (RUS / 2020 Sprint World Champions, 2020 European Champions)
"The win was pretty easy because the top teams weren't competing today. We are looking forward to the challenge with the other duos at Königssee."
Wojciech Chmielewski (POL / 2016 U23 World Champion)
"This is our best performance and the best result for the Polish luge team. We are delighted to have made some luging history for Poland."
Oskars Gudramovics (LAT / fourth place at the 2019 World Championships)
"While this may not be our favourite track, we always manage to get good results here. Latvia has had the honour of celebrating some good performances here."