Steu/Koller to worry about participation at season's opener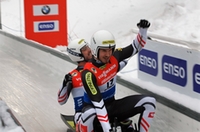 Innsbruck (RWH) Austria's double Thomas Steu/Lorenz Koller is worried about their participation at the season's opener in Viessmann Luge World Cup at the end of November. Due to an operation at the right elbow 25-year-old Koller underwent an operation. This was published by the Austrian Federation.
It is not yet clear, when Steu/Koller can return on ice. Last winter the duo won both World Cup races on home soil as well in the Olympic discipline as in the Sprint.