Successes in FIL Social Media Communication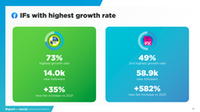 Berchtesgaden (FIL/17 March 2023) The RedTorch analysis of the 2022 Social Media Ranking of the International Federations has been published. It ranks each International Federation (IF) according to its performance on Facebook, Instagram, Twitter, YouTube and TikTok.
It is particularly pleasing to see that the FIL is highlighted on pages 19 and 38 as the International Federation with the highest growth rates on Facebook and YouTube.
The full report can be downloaded from the following link:
https://redtorch.sport/sportonsocial-league-table-2023/
The FIL communication team has grown for the 2022/2023 season. The new product FIL Studio has been introduced and the communication work has been expanded. The success with the RedTorch analysis bodes well for further growth in the future.
Volleyball World leads the #SportOnSocial League ranking and is the #1 Olympic federation on social media. The #SportOnSocial League Table is the leading benchmarking tool for social media performance in Olympic sports and evaluates the social media performance of 40 international federations.
#SportOnSocial