Successful test of the preliminary model for Women's double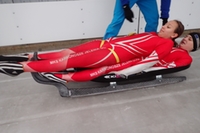 Sigulda (RWH) The project "Women's double" of the International Luge Federation is making progress. A preliminary model of the newly developed sledge was successfully tested on the artificial track of Sigulda, Latvia, shortly before Christmas, as the Technical Director of the FIL, Christian Eigentler from Austria, informed now. The training camp was joined by junior athletes from Russia, the Czech Republic, Poland, and Latvia.
The International Olympic Committee (IOC) has affiliated the discipline of Women's doubles for the Youth Olympic Games 2020 in Lausanne (SUI). The FIL is now working to create the requirements for the new discipline.